Bridging Economic Reconciliation: Acting on TRC #92
Register Now
June 17, 2019
8:00 am – 5:00 pm
Location
TCU Place 35 22 Street East, Saskatoon, SK, Canada
Description
What does reconciliation mean, how can the economy be better with reconciliation, what organizations are doing their part, and what can be done for those that are new to the reconciliation process? Chief Darcy Bear, Whitecap Dakota First Nation, and Tribal Chief Mark Arcand, Saskatoon Tribal Council, are leading this conference to address these issues. Speakers include leaders from industry, finance, education, government and Indigenous communities.
BRIDGING ECONOMIC RECONCILIATION is a business development event addressing how we can learn from successful partnerships between Saskatchewan businesses and institutions, and the Indigenous community, while providing a meeting place to network and form new synergies. The event features a wide range of innovative ideas that can improve your business and open untapped markets.
For more information, please visit: https://www.reconciliationeducation.ca/trc92
AGENDA
8:00am Registration
9:00am Grand Entry and Greeting
9:30am Indigenous Business – Economic Empowerment Tabatha Bull, CEO, Canadian Council for Aboriginal Business
9:50am First Nations Community Economic Development – Panel Moderator – Tabatha Bull
Whitecap Dakota First Nation -Chief Darcy Bear
Lac La Ronge Indian Band – Chief Tammy Cook-Searson
Cowessess First Nation – Chief Cadmus Delorme
10:50am Saskatchewan premiere of the film 'Economic Reconciliation"
11:30am Province and Municipalities -Innovative Policy to Support the Economy – Moderator – David Sharpe, Bridging Financing
Mayor Charlie Clark
Honourable Minister Gordon Wyant (invited)
Honourable Minister Warren Kaeding
LUNCH
1:15pm Success at SIGA – Zane Hansen – President and CEO, SIGA
1:25pm Truth and Reconciliation Call to Action #92 – Eugene Arcand, member of the Truth and Reconciliation Commission's Indian Residential School Survivor Committee
1:35pm Financial Institutions Supporting the Economy – Panel Moderator- Paul Ledoux, Affinity Credit Union
Peace Hills Trust – David Boisvert
First Nations Bank – Keith Martell
BMO – Stephen Fay, Head Indigenous Banking North America
2:15pm Education Supplying Talent to the Economy – Panel Moderator – Kelly Lendsay, Indigenous Works
SIIT – Riel Bellegarde – President & CEO
Saskatchewan Polytechnic – Dr Larry Rosai, President and CEO
University of Saskatchewan – Provost Tony Vannelli

3:15pm Industry Foundational Relationships to the Economy – Panel Moderator – Tribal Chief Mark Arcand
Nutrien – Susan Jones – Nutrien, President and CEO Potash
JNE Welding – Jim Nowakowski
All North Engineering –(TBC)
4:00pm Celebration of Success (SIIT and U of S) 5-year celebration
SIIT President and CEO, Riel Bellegarde
U of S Edwards School of Business
Commerce Graduates
Honour Song
Premier's Address Premier Scott Moe
This conference is the Saskatchewan launch of the film "Economic Reconciliation" featuring an economically self-sustaining community with financially independent members. Produced on heels of the Truth and Reconciliation Commission's (TRC) final report, this is the first ever film on economic reconciliation in Canada.
HOSTED BY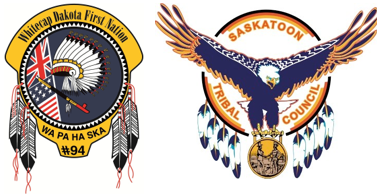 Register Now